A SMALL COLLECTION OF ANTIQUE SILVER AND OBJECTS OF VERTU
silver dance card holder (carnet de bal) England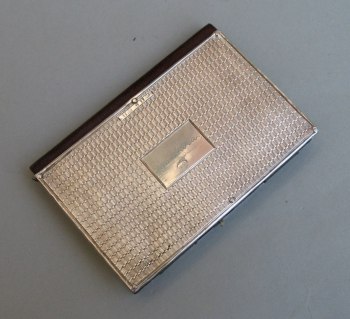 Dance cards become popular items at balls and assemblies in the early 19th century when the more formal balls used in the previous century were abandoned.
The minuets, danced one couple at a time in a rigidly prescribed order defined by the social rank of the dancers, gave way entirely to less formal dances as quadrilles and dances done with a single partner, like the waltz and the polka.
In the new social context the 'Dance cards' ('carnet de bal' in French) were used by ladies to keep track of the gentleman to whom they had promised dances in the course of the evening.
The ladies participated in the ball with their personal 'Dance card' contained into an elaborate cover of bone, silver or ivory, often with miniature petit point canvas inserts.
They were small enough to be readily portable and, together with the 'posy holder' (tussie mussie), were an indispensable complement to ball's accessorizing.
Personal 'Dance cards' were less common at the end of the 19th century when a simple card or a card folded in half were prepared by the 'dance committee', reporting the description of the occasion for the event, the location and the date.
The interior of the 'dance card' usually contained a list of the evening's dances, with spaces provided for the names of the gentlemen to whom the lady had promised them. Covers were especially colorful and elaborate and afterwards served as mementos of the occasion.
This one is an ancient leather and silk 'dance card holder' with silver 'guilloché' covers, made in 1835 by Birmingham's silversmith Joseph Wilmore. According to Jackson's he entered his mark in the register between 1803 and 1807. He is an interesting maker as it is believed that he also entered his marks in London. This would allow him to set up a London workshop.
On the side it has a pencil holder and inside it has three ivory sheets. The book was held closed when the pencil was placed through the silk loops. Faint traces of the names written on the ivory still survive.
The silver is fully hallmarked with 'anchor' (Birmingham), duty mark (King William IV), date letter (M = 1835) and 'JW' (silversmith Joseph Wilmore).
The rectangular 'reserve' is iscribed 'Barbara' in one side and 'Sarah' on the other.
The 'dance card holder' is 3 1/4 in. high (cm. 8) and was bought from an Italian dealer through the Internet.

This item is not for sale, but most of my pieces were bought through the Internet. On the bottom and on the right bar of this page there are some links to silver and antique dealers websites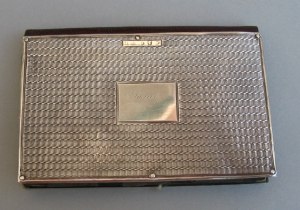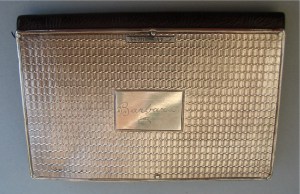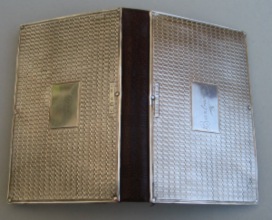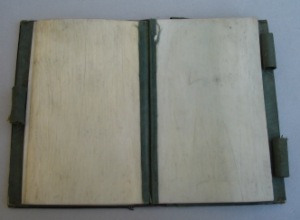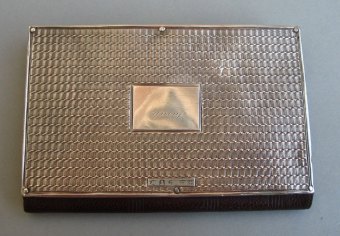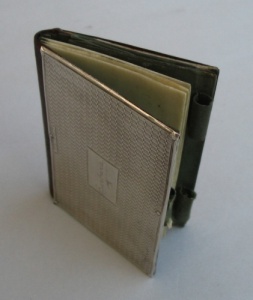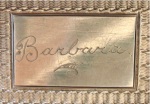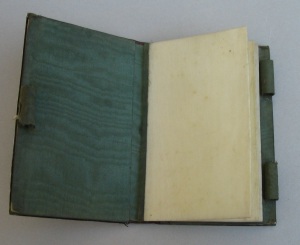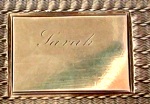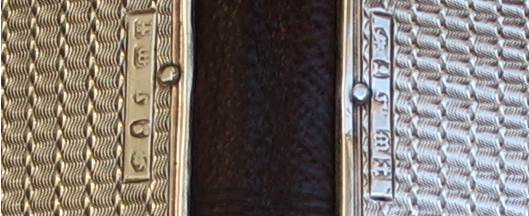 Secrets Of A Summer Night is the first novel in Lisa Kleypas' Wallflower series, about four girls who help each other to find husbands. Chapter one begins with a description surprisingly related to a similar 'dance card'



Chapter One
London 1843
The End Of The Season

A marriage-minded girl could overcome practically any obstacle, except the lack of a dowry. Annabelle swung her foot impatiently beneath the frothy white mass of her skirts, while she kept her expression composed. During her past three failed seasons, she had become accustomed to being a wallflower.
Accustomed, but not resigned. More than once it had occurred to her that she deserved far better than to sit at the side of the room in a spindly chair. Hoping, hoping, hoping, for an invitation that would never come. And trying to pretend that she didn't care--that she was perfectly happy to be watching others dancing and being courted.
Letting out a long sigh, Annabelle fiddled with the tiny silver dance card that hung from a ribbon on her wrist. The cover slid open to reveal a book of near-translucent ivory leaves that spread out in a fan.
A girl was supposed to pencil the names of her dance partners on those delicate slips of ivory.
To Annabelle, the fan of empty cards seemed to resemble a row of teeth, grinning at her mockingly.
Snapping the silver case shut, she glanced at the three girls who sat next to her, all endeavoring to look similarly unconcerned with their fates.....

www.silvercollection.it ©