WASTE BOWL

Ort bowls, slop bowls, alms-dishes, voiders, waste-pots, waste bowls... (among the many names by which these items have been known), were used since ancient times. In their different shapes, measures and materials they are containers into which to put unwanted scraps and pieces of food in order to clear the plate.
By the middle of the eighteenth century, small circular or octagonal bowls were added also to the equipment necessary for the serving of tea. Slop bowls, as they were then called, were used for pouring out the remaining cold tea in a cup before pouring another.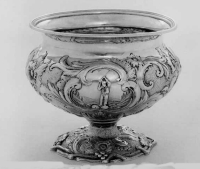 It was not until the second half of the eighteenth century that the form became standard equipment of the tea table. In the classical period they became designated as slop basins, and in general were fashioned with a large basin form supported on a pedestal base.
In the nineteenth century the slop bowl continued as a circular basin without any handles or lid, and was almost twice as large as the sugar bowls in teasets. Often it had a wide projecting rim at this period, a practical measure taken against splashing during use.
The shape of the silver waste bowl may result in a misidentification and usually a certain designation is possible only when it is part of a complete teaset or when coupled to its companion sugar bowl.
Often, a 'single' waste bowl is offered for sale, by unaware dealers, as more appealing ... sweetmeat bowl ... sugar bowl ... centerpiece ... or some other fancy designation.
waste bowl
Thomas William Brown, Wilmington,
c. 1840

tea or coffee set
Thomas William Brown, Wilmington,
c. 1840
waste bowl: Grosjean & Woodward for Tiffany

tea and coffee service Grosjean & Woodward for Tiffany, circa 1862
teapot, coffee pot, waste bowl, milk creamer, sugar bowl
waste bowl Dominick & Haff

teaset Dominick & Haff, New York,
teapot, kettle and stand, milk creamer, waste bowl, sugar bowl
waste bowl Wallace

tea and coffee service,
Wallace, Wallingford, CT, pattern Sir Christopher
teapot, coffee pot, waste bowl, sugar bowl, milk creamer
Barbour Bros. Co. waste bowl

milk creamer, sugar bowl and waste bowl
Quadruple Plate, Barbour Bros. Co. Hartford, Connecticut, last quarter of 19th century
| | |
| --- | --- |
| | |
| Theodore B. Starr waste bowl c. 1890 | Theodore B. Starr five piece tea and coffee service c.1890 |
| | |
| --- | --- |
| | |
| Reed & Barton waste bowl | Reed & Barton Georgian Rose pattern tea and coffee five piece service |
| | |
| --- | --- |
| | |
| S. Kirk & Son waste bowl | S. Kirk & Son tea and coffee five piece service |



www.silvercollection.it

This is a page of 'The What is? Silver Dictionary' of A Small Collection of Antique Silver and Objects of vertu, a 1000 pages richly illustrated website offering all you need to know about antique silver, sterling silver, silverplate, sheffield plate, electroplate silver, silverware, flatware, tea services and tea complements, marks and hallmarks, articles, books, auction catalogs, famous silversmiths (Tiffany, Gorham, Jensen, Elkington), history, oddities ...
SITE MAP - SILVER DICTIONARY