WAGER CUP

The origins of these cups are 'Jungfraubecher' made in Germany (Nuremberg) around 1565 and in use for all 17th century. The cup has the look of a young girl with a wide long skirt in the form of a cup supporting over her head a smaller swivelling cup.
The silver wager cup was created for use in wedding's banquets, where the spouse drank wine from the bigger cup and offered his bride to drink from the smaller, avoiding pouring out even a drop of its content.
The production of cups in this form was resumed at the end of 19th century (particularly in Germany and Holland) for export to UK and USA, not for wedding but for wager use.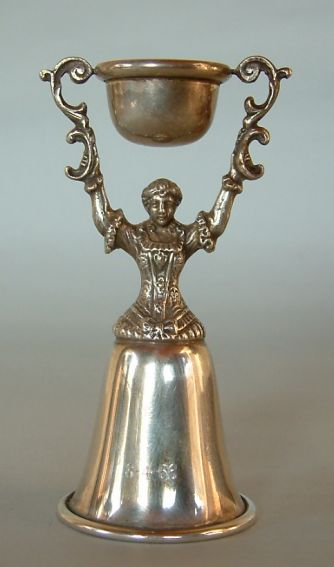 The wager cup is frequently found in Holland but also made in England, in the form of a standing woman (or, rarely, a man) with upraised arms which hold the side handles of a small gimbal-type drinking cup that swivel in a bracket frame. The woman's wide skirt is a fixed cup upside down.
This is a little silver wager cup of recent production (dedication's date is 6-4-66) in the form of a tightly bodied 17th century woman, wearing a full skirt, holding branches from which is suspended a swivelling cup.
The cup bears Reed & Barton hallmark and is 3 1/2 in. high (cm. 9)



www.silvercollection.it

This is a page of 'The What is? Silver Dictionary' of A Small Collection of Antique Silver and Objects of vertu, a 1000 pages richly illustrated website offering all you need to know about antique silver, sterling silver, silverplate, sheffield plate, electroplate silver, silverware, flatware, tea services and tea complements, marks and hallmarks, articles, books, auction catalogs, famous silversmiths (Tiffany, Gorham, Jensen, Elkington), history, oddities ...
SITE MAP - SILVER DICTIONARY