VERMEIL
GILDED SILVER
SILVER-GILT

vermeil (gilded silver, silver-gilt) is a base of sterling silver that is coated or plated with a thin layer of gold. Vermeil can be produced by either fire-gilding or electrolysis. The original fire-gilding process was developed in France in the mid-1700s. Fire-gilding or Wash-gilding is a process by which an amalgam of gold is applied to metallic surfaces, the mercury being subsequently volatilized, leaving a film of gold or an amalgam containing mercury. In the preparation of the amalgam the gold must first be reduced to thin plates or grains, which are heated red hot, and thrown into previously heated mercury, till it begins to smoke. Upon stirring the mercury with an iron rod, the gold totally disappears.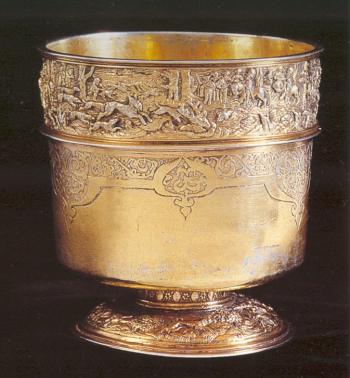 At the end of the 19th century, however, France banned the production of vermeil because over time artisans developed blindness due to mercury involved in the process. Today, vermeil is safely produced by electrolysis.
Parcel gilt is an object covered only in part by a gold layer.



www.silvercollection.eu

This is a page of 'The What is? Silver Dictionary' of A Small Collection of Antique Silver and Objects of vertu, a 1000 pages richly illustrated website offering all you need to know about antique silver, sterling silver, silverplate, sheffield plate, electroplate silver, silverware, flatware, tea services and tea complements, marks and hallmarks, articles, books, auction catalogs, famous silversmiths (Tiffany, Gorham, Jensen, Elkington), history, oddities ...
SITE MAP - SILVER DICTIONARY