SALT
SALT CELLAR
SALT SHAKER
TRENCHER SALT

A receptacle for holding table salt made in a great variety of shapes, styles and sizes. Silver or silver plated salts have the interior ortected by gilding or by a glass liner to prevent metal corrosion.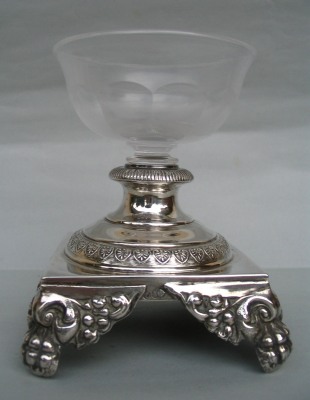 Salt cellar is a small shallow bowl holding salt for indivual use on the dinner table.
It has circular, oval, rectangular, polygonal or tureen-shaped form. It has a footed base or it rests on three or four feet. A particular shape is the salt throne used in Russia.


Salt shaker is a small caster used for sprinkling table salt. It has cylindrical or pear-shaped form.


Trencher salt is an ancient type of salt without legs or feet and resting flat on the table.



www.silvercollection.it

This is a page of 'The What is? Silver Dictionary' of A Small Collection of Antique Silver and Objects of vertu, a 1000 pages richly illustrated website offering all you need to know about antique silver, sterling silver, silverplate, sheffield plate, electroplate silver, silverware, flatware, tea services and tea complements, marks and hallmarks, articles, books, auction catalogs, famous silversmiths (Tiffany, Gorham, Jensen, Elkington), history, oddities ...
SITE MAP - SILVER DICTIONARY