PAX

The 'PAX' ('pax' is a Latin word. In English it means 'peace') is an Eucharistic tablet decorated on the front with a Sacred Scene that was kissed by the priest celebrating the Mass, then offered to the kiss of other officiates and, finally, to the faithful.
It was called 'osculum pacis' or 'tabella pacis' and was used since the 13th century replacing the ancient 'kiss of the peace' which preceded the Holy Communion.
The ancient use of the 'PAX' is certified by the mention of the 'osculatorium' on Archbishop of York Walter de Gray's Statutes (1250).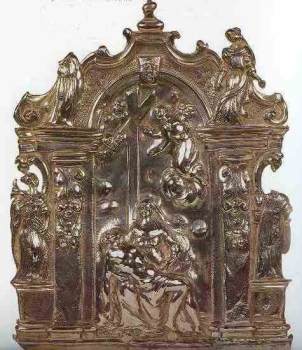 The 'PAX' was usually rectangular (but there are some round examples) with a small base and a handle for its standing (it was used also as a small portable altar).
The ' PAX ' was made of many different materials (gold, silver, bronze, ivory, glass) and different and often conjoined techniques (embossing, bas-relief, niello, engraving, enameling). (Dizionario di Antiquariato - A. Vallardi-Garzanti, Milano 1992)

on the left 'Our Lady and Dead Christ' (Venice 18th century)


The Virgin Mary with Children
(Venice 18th century)

Our Lady and Dead Christ
(Venice 18th century)



www.silvercollection.it

This is a page of 'The What is? Silver Dictionary' of A Small Collection of Antique Silver and Objects of vertu, a 1000 pages richly illustrated website offering all you need to know about antique silver, sterling silver, silverplate, sheffield plate, electroplate silver, silverware, flatware, tea services and tea complements, marks and hallmarks, articles, books, auction catalogs, famous silversmiths (Tiffany, Gorham, Jensen, Elkington), history, oddities ...
SITE MAP - SILVER DICTIONARY