KOVSH

Kovsh is one of ancient kinds of Russian utensils for liquids. Precious ladles are known according to testaments of Great Princes of the 14th century. The kovsh, were carved in wood and first ladles from gold and silver were made in Novgorod.
The ladle served for tasting 'medovukha', a light alcohol drink based on fermentated honey.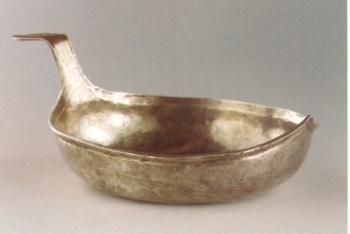 In the 17th century ladles were frequently given as an award for merits before Tsar and State, a decoration including Russian arms - a Double-Headed Eagle - and were inscribed around the rim with the name and an account of the recipient.




www.silvercollection.eu

This is a page of 'The What is? Silver Dictionary' of A Small Collection of Antique Silver and Objects of vertu, a 1000 pages richly illustrated website offering all you need to know about antique silver, sterling silver, silverplate, sheffield plate, electroplate silver, silverware, flatware, tea services and tea complements, marks and hallmarks, articles, books, auction catalogs, famous silversmiths (Tiffany, Gorham, Jensen, Elkington), history, oddities ...
SITE MAP - SILVER DICTIONARY