JUDAICA
JEWISH RITUAL SILVERWARE

Judaica are silverware used in synagogues and Jewish household ceremonies. They include TORAH SHIELD, RIMMONIM - TORAH FINIAL, YAD -TORAH POINTER, CHANUKAH LAMP - MENORAH , ETROG CONTAINER (SPICE BOX - ESROG BOX), KIDDUSH CUP (KIDDUSH GOBLET - KIDDUSH BEAKER), SPICE TOWER Since ancient times silver was the preferred material for making the Kiddush cups, Hanukkah lamps, Torah decorations and the dozens of other objects used in observing the 'Mitzvot' (commandments).
Although silver has been important in the fashioning of secular and religious objects for millennia, very little that was made specifically for Jewish ritual use before the 16th century has survived.
Most of the objects we know of in museum and private collections of Judaica date from the 17th, 18th, and 19th centuries.
'Judaica' is highly appreciateds by antique silver collectors and Sotheby's and other primary auction houses dedicate specific auctions to this theme.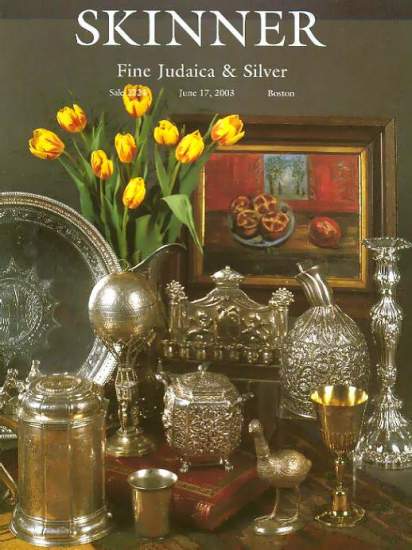 In Europe, Jews were not normally allowed to be silversmiths or goldsmiths because they were excluded from membership in the guilds. So, many of the ceremonial objects in Judaica collections, though used by Jewish communities, were made by non-Jewish manufacturers or artisans on commission. As a result, there are often mistakes in the Hebrew because the people who made the objects didn't know Hebrew and could only copy it from inscriptions written out for them.
The Judaic ceremonial art had its first public display in the late 19th century.
The collecting and displaying of Jewish ceremonial art for aesthetic as well as educational purposes was unknown until the nineteenth century, as up to that time they were used only in the life cycle and holiday ceremonies in the home and in the synagogue.
Some Jewish ceremonial objects were displayed in 1875 in the Amsterdam Historische Tentoonstelling and a private collection of eighty-two objects was displayed in 1878 at the Exposition Universale of Paris.
The first major independent public display on Judaica art was held in the 1887 Anglo-Jewish Historical Exhibition, and its 2945 items catalog was the first significant catalog of Jewish art.





www.silvercollection.it

This is a page of 'The What is? Silver Dictionary' of A Small Collection of Antique Silver and Objects of vertu, a 1000 pages richly illustrated website offering all you need to know about antique silver, sterling silver, silverplate, sheffield plate, electroplate silver, silverware, flatware, tea services and tea complements, marks and hallmarks, articles, books, auction catalogs, famous silversmiths (Tiffany, Gorham, Jensen, Elkington), history, oddities ...
SITE MAP - SILVER DICTIONARY