HOLY WATER FONT

holy water font is a vessel used for holding holy water. They are sometimes imbedded in the walls, and sometimes rest on a pedestal. The shell-shaped font which has persisted was introduced in the 17th century. The most ancient portable fonts for use in aspersions were pails of lead or bronze covered with silver. The present form of the aspersorium was introduced in the 13th century. The most ancient portable fonts are in the form of pails and shaped like truncated cones. Those most prized for their antiquity are of lead or bronze, sometimes even of wood covered with a sheet of wrought metal. However, if there ever existed silver of silver-gilt fonts, it is evident that they have not come down to us.
Large quantities of portable fonts in pail form with swiveling handle survive from the 18th and 19th century production. Most of them are in silver and were made in Italy.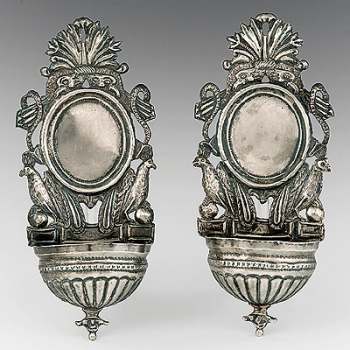 Private fonts are usually in the shape of a very small basin attached to the wall by means of a plate. Private fonts are generally smaller than the portable ones used in churches. These were very rich ones in gold and silver ornamented with pearls and enamel and have the shape of a small round basin suspended from a plate fastened to the wall.
A wide production of 18th and 19th century Italian holy water fonts for private use still survives.



www.silvercollection.it

This is a page of 'The What is? Silver Dictionary' of A Small Collection of Antique Silver and Objects of vertu, a 1000 pages richly illustrated website offering all you need to know about antique silver, sterling silver, silverplate, sheffield plate, electroplate silver, silverware, flatware, tea services and tea complements, marks and hallmarks, articles, books, auction catalogs, famous silversmiths (Tiffany, Gorham, Jensen, Elkington), history, oddities ...
SITE MAP - SILVER DICTIONARY