BRAZIER

silver brazier is a type of utensile that provides heat by burnig charcoal; it is sometimes used for warming or cooking foods in a pan placed upon it over the charcoal. The piece is in the form of a bowl-shaped circular basin usually having
- a metal grille upon which to place the burning charcoal;
- a pierced base and rim to provide air circulation;
- three outward-curved vertical brackets upon which to rest a dish
or a bowl to be kept warm;
- three short legs to elevate it above the table;
- a long straight horizontal wooden handle;
- a plate placed below the grille to hold the ashes.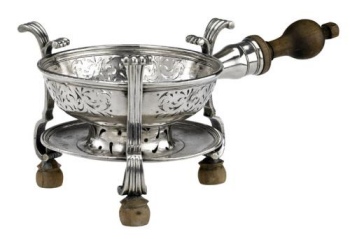 The brazier is derived from ancient utensils to hold burning charcoal, of wich the larger examples were for warming a room and smaller ones were used as foot-warmers.





www.silvercollection.it

This is a page of 'The What is? Silver Dictionary' of A Small Collection of Antique Silver and Objects of vertu, a 1000 pages richly illustrated website offering all you need to know about antique silver, sterling silver, silverplate, sheffield plate, electroplate silver, silverware, flatware, tea services and tea complements, marks and hallmarks, articles, books, auction catalogs, famous silversmiths (Tiffany, Gorham, Jensen, Elkington), history, oddities ...
SITE MAP - SILVER DICTIONARY