BRATINA

Bratina is an early vessel used in Russia. Bratina derives from "bratchina" or "bratovshchina", a feast of brothers. They are large spherical vessels often with inscriptions referring to reunions of relatives.
The first written mentions of bratina made in precious metal date to the beginning of the 16th century, but only later examples still survive.
The use of metal bratina diminished at the beginning of the 18th century and survived only in popular classes with examples made of non precious materials.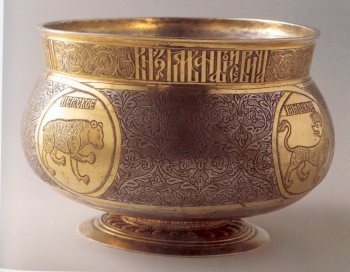 In the last quarter of the 19th century Elkington & Co., London made electrotype reproduction of a Russian seventeenth century bratina. It was a gilt on brass example of globular shape, on 5cm deep circular foot ring; a contracted lip, slightly everted at upper edge and flat on top. Whole outer surface engraved with foliate arabesques, wreathage, flowers, eagles and phoenixes. The whole surface gilded.




www.silvercollection.eu

This is a page of 'The What is? Silver Dictionary' of A Small Collection of Antique Silver and Objects of vertu, a 1000 pages richly illustrated website offering all you need to know about antique silver, sterling silver, silverplate, sheffield plate, electroplate silver, silverware, flatware, tea services and tea complements, marks and hallmarks, articles, books, auction catalogs, famous silversmiths (Tiffany, Gorham, Jensen, Elkington), history, oddities ...
SITE MAP - SILVER DICTIONARY